Everybody talks about gluten-free nowadays. That's why I thought this is a great recipe which I found on a German site called
www.rohkostrezepte.wordpress.com which means recipes with raw food, so no cooking, all ingredients are raw. So you don't bake this cake, all ingredients are raw. It reminds me of the yummy Laerabar snacks. If you cannot eat flour or wheat products than this cake is the one to try.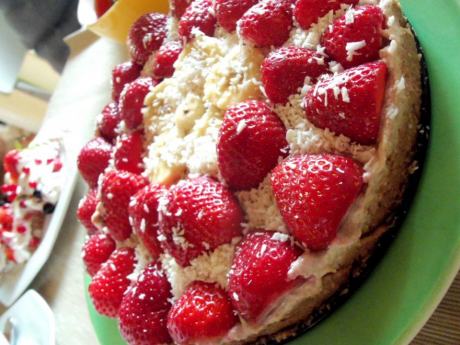 Ingredients Raw Fruit Cake
For the Dough
200 g dried dates
100 g dried cranberries
100 g ground almonds
100 g unsweetened grated coconut
Filling Cream
100 g dates or apricots
200 cashew nuts
4 tbsp lemon juice ( some organic lemon peel)
On Top
800 mixed fruit (use what you can get, strawberries, blueberries, peaches or pine apple; you can use bananas too)
Baking Instructions Raw Fruit Cake
– Soak dried fruit and almonds for 8 hours (over night), as they can be processed much better.
– Mix all ingredients in a blender until you get a dough which can be pressed into the baking form. Before that sprinkle some coconut on the form; this will help that the dough can be removed. Keep it at a cool place over night.
– For the cream soak fruit and nuts over night, let them drip and puree them with the lemon juice.
– Spread cream on top of the cake bottom.
– Decorate the fresh fruit on the cake and sprinkle coconut flakes on top.
Comments
comments